Meet Our Team
An outstanding group of individuals dedicated to the same goal; a perfect customer experience.
At Chelsea Audio Video, we are tenacious about holding each other accountable. The excellence we demand internally sets the standard for how we perform in the field, from smart home systems to audio home installations. Our team has had extensive history working together in smart home system technology, AV services, and luxury design, coming together at Chelsea Audio Video is a natural fit.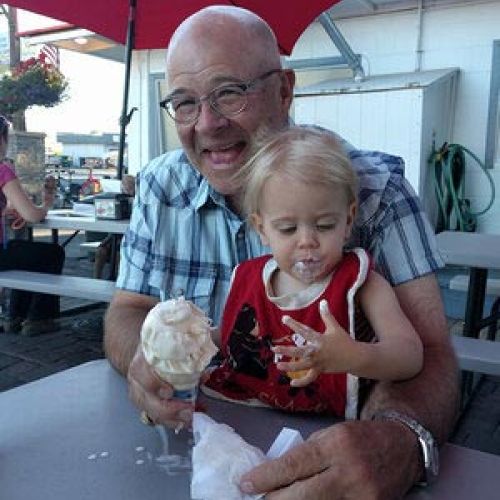 Ford Montgomery JR
My passion for music, whether live or recorded, I couldn't get enough of it. Law school sounded miserable so I started working at a small audio shop in Albany, OR that fueled my passion to step out on my own and give it a shot as a business owner.
I was born in Texas, we moved to California when I was in 1st grade and to Portland when I was 10. My father worked for Hilton Hotels and was picked by Conrad Hilton, who I met once, to open the hotel in downtown Portland.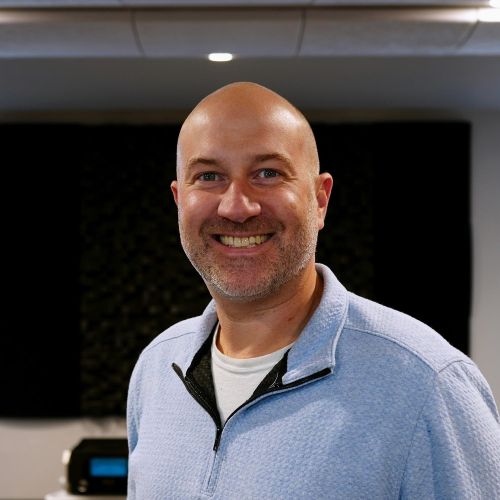 Ford Montgomery III - President
Our extremely loyal clientele is the primary reason we are going strong after 47 years in business. We offer some of the best products in the industry and being a small company, we can adapt to change very quickly. Overall, what I enjoy the most is working with our team of professionals to help design, install, and support systems that best fit the clients' wants and needs.
Listening to my father's great two-channel music system (that I wasn't supposed to be listening to).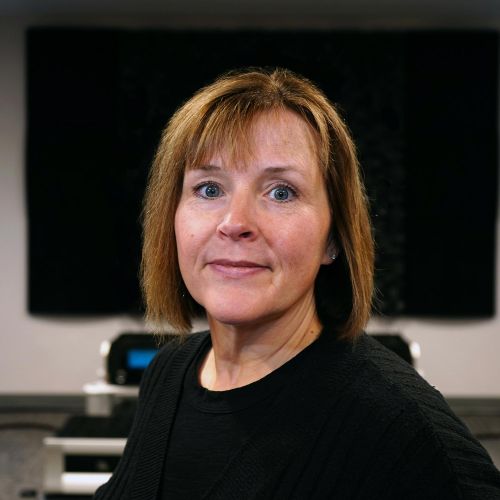 Brenda Huber – Operations Manager
Brenda Huber has worked for Chelsea Audio Video for 33 years. She started in the front office, answering phones and helping out the main buyer for the company any way she could. A few years later, she took over that position and streamlined the process, making it much more efficient and profitable. After getting her degree in accounting, she put it right to work implementing even more new practices and procedures. Today she is the Operations Manager and oversees all of the purchasing, accounting, and billing.
Brenda was born at the West Point Military Hospital in NY. Her family moved back to Oregon City, OR when she was 3 months old. She enjoys kayaking, going to Blazer games, traveling in her RV with her dog, Sparky, and husband, Christian. What she likes most about working at Chelsea is the casual work atmosphere with serious execution. Over the years we have developed a fantastic company culture built around teamwork and providing the best service and support to our clients. This is our 47th year of business, and with loyal, hardworking fully committed employees like Brenda we should be around for another 40 years at least!
Jeff Kinnaman – Project Manager
Jeff Kinnaman has worked for the Chelsea Audio Video installation department for 24 years. He started out as the low man on the totem pole, fetching tools and wire for the other installers and doing most of the crawling around in attics and crawl spaces, but proved very quickly to be a key component in the success of the install department. He quickly worked his way up to become a lead installer with apprentices under him, who excelled with Jeff as a mentor and leader. When the project manager position became available, it was a foregone conclusion who would get it. Now, he runs and directs the entire install department.
Jeff grew up in Portland, Oregon, and his passion for audio/video equipment started in high school when he developed an interest in car audio. His passion subsided a bit after his and his friends' systems were stolen. A friend working in the install department at Chelsea recommended Jeff as a replacement when he left for a new job. The rest is history!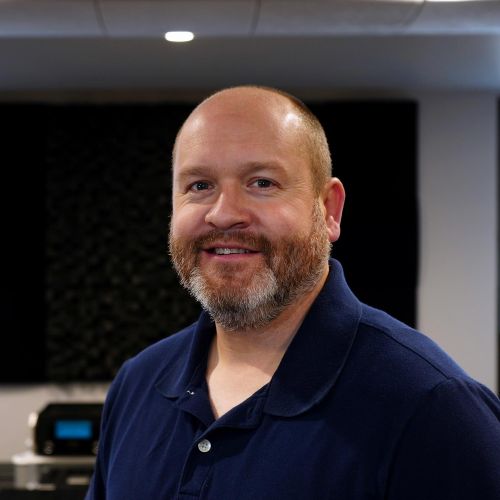 Kyle Grimm – Sales Manager
Kyle Grimm has been at Chelsea Audio Video for 24 years. It would have been 26, but we loaned him to a shop in Alaska for 2 years while his wife Darcy was fulfilling her duty in the United States Air Force. Kyle grew up in Colfax, WA, and first got the audio bug in high school from a friend who was obsessed with bands like Pearl Jam, Nirvana, and Stone Temple Pilots. Kyle listened to them constantly, and music became a part of his everyday life. After high school, Kyle moved to Portland, not sure exactly what he wanted to do. That all changed one day at the movie theater. He saw an advertisement Chelsea often did in the theaters before the movie began and thought it sounded like fun. He came in to do an interview with no prior experience in the field and low expectations. His passion really came through, and he excelled in the warehouse position for 2 years before moving into sales. There, he has been a model of consistency, not only selling, but putting together most of the demos in the store, training new salespeople, and researching new products and trends. Keeping up to date with today's technology is a daunting task!
When Kyle isn't working, he enjoys hiking, skiing, and spending time with his wife, Darcy, and children, Max, Lucy, Simon, and June. His overall passion for the equipment, his clients, and Chelsea drive Kyle to be the best. If you look at his reviews on Yelp, Facebook, and our website, you will see this first hand.
Ryan Dahneke – Installation Technician
Ryan grew up in Redding, California. His first taste of good audio/video was in a family friend's home theater, complete with projector, very large screen, enormous speakers, and a couple subwoofers. He really enjoyed showing off the system, and after a couple thunderous showings of Top Gun, Ryan was hooked. After graduating from Chico State University with a degree in Economics, he didn't know what he wanted to do. He did know he wanted out of California, so he embarked on a quest to find home. After a short-lived experiment staying in Seattle, he drove down to Portland and quickly fell in love with the city. That was in 2006. He has been here ever since.
In his free time Ryan likes to travel with his wife, Sarah, and daughter, Ayla in their RV around the country. His parents moved just outside Portland to be closer to their granddaughter, so they spend quite a bit of time with them along with friends. He also likes spending time outdoors and doing projects around the house. Ryan has been at Chelsea for 10 years.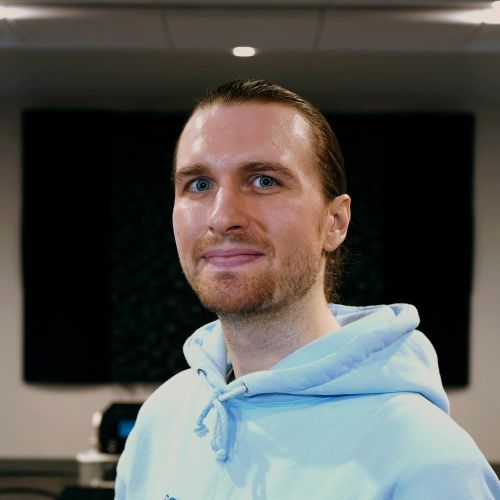 Chris Walton – Warehouse Supervisor
Chris grew up in Traverse City, Michigan where his dad owned the local Hi-Fi store, The Sound Room. In his late teens he helped his dad open up the local record store RPM Records where he spent as much time as he could listening to every strange thing he came across. His passion for music and high-fidelity audio started when he would listen to music on his dad's stereo system when home alone. He was then gifted an NAD amp as a preteen with a mark on the volume knob to show how loud he should play it, which he promptly ignored and became fascinated with all different genres found around the world.
Chris traveled the states with his girlfriend looking for a place to call home and ended up falling in love with Portland. He loves hearing and learning about new music and new gear. He spends his free time crate digging for records, producing music, writing, and skateboarding. As well as spending time with his two cats and girlfriend.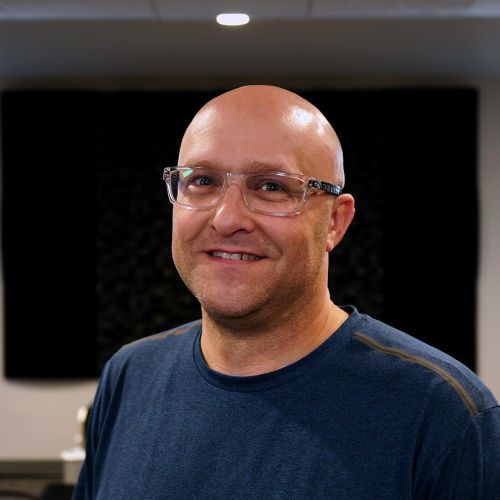 James Gillice – Installation Technician
James grew up in Salt Lake City, Utah, and enjoyed music growing up, but his passion really grew when he got an acoustic guitar at age 16. He and a friend formed a band, and they even recorded a CD where James played guitar and sang. He is still trying to figure out why they were never signed to a major record label, but his love of music never left.
During his college years at Utah Valley University, James earned a bachelor's degree in digital marketing. At the same time he worked for the university setting up a variety of audio, video and conferencing systems all over the campus.
Outside of work James enjoys spending time with his wife Desta, and their 4 children. They do quite a bit of hiking around the state, and enjoy spending time at the Oregon coast. He also enjoys recording music and playing golf.
Hayden Scott - Field technician
Hayden grew up in St. Paul, Oregon where he went to school and worked at the local telephone Co-Op. He spent a majority of his summers working alongside the road pulling in fiber optics and troubleshooting internet issues. As he realized he wanted more exposure outside of St. Paul, Hayden moved out of town and started looking for jobs in the Portland metro area.
Hayden's parents used to listen to a lot of classic rock music when he was growing up, and he was hooked at an early age. His musical tastes branched out over the years, and when he got his own place one of the first things he did was purchase his own stereo system. We like priorities like this!
Currently, Hayden is a Junior at Portland State University where he is earning his bachelor's degree in Business Technology and Analytics. He spends his free time hanging out with his dog and two cats. He also likes to watch movies and listen to music.